Guru Archive 2015
How to Take Your Dream Vacation Without Spending an Arm and a Leg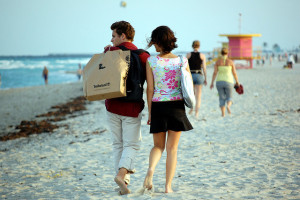 Planning a dream vacation? Consider a cruise to reach exotic destinations while enjoying delicious food, pampering service and great entertainment. The Cruise Guru, David Yeskel, provides a few tips for the best time of year to plan that dream vacation affordably.
Read the full article at Len Penzo dot Com.
12/19/15
"Best Bets" for Serenity on the Vegas Strip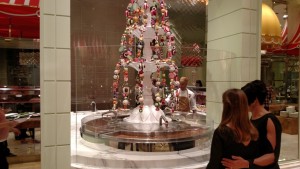 Join The Travel Guys radio hosts Mark Hoffman and Tom Romano at the 11 minute mark as they discuss some Las Vegas "Best Bets" with The Vegas Guru, David Yeskel. Is there a spot for a relaxing, serene stay in Los Vegas? Absolutely, says David Yeskel if you book a stay at The Delano. Find out why the newly renovated property provides a Zen-like experience, especially if you plan a mid-week visit for the best room rates. And be sure to listen in to learn about the best gourmet buffets on the strip…including the location of this chocolate fountain!
World Footprints will criss-cross the United States from Las Vegas, and Jacksonville, Florida to Wisconsin and we will put a spotlight on the rich history throughout the Czech Republic. We will also stroll through North Little Rock, Arkansas and journey to Martinique.
Veteran travel journalist David Yeskel has seen the evolution of Las Vegas over the decades. From its humble beginnings as "sin city" to the entertainment capital of the world, Las Vegas has survived the odds of a failing economy and multiple attempts to reinvent itself to become a burgeoning metropolis with 2 million residents. But the city has also maintained a small-town feel for its residents amidst the bright lights and glamour. David will offer a different perspective on Las Vegas as well as offer some essential travel tips that can maximize a visit to the city.
To listen to the interview, click here.
---
Since 2003, Yeskel has written his annual "Las Vegas Best Bets" roundup for Travel Weekly. David gives several tips to maximize your Las Vegas experience.
"There's no off-season when it comes to weekends in Vegas," claims David Yeskel, aka The Vegas Guru. It's important to speak with a veteran of the Las Vegas scene to know when and where to go, as the city is bound to be jammed with an influx of visitors from all over the world.
The Vegas Guru gives several good tips and advice for places to stay with less traffic. He says off-Strip resorts Red Rock Casino and the M Resort, where weekday stays can range anywhere from $100-200 a night, are great choices for getting away from the multitudes.
Listen for David's tips at the 24:00 minute mark.
To listen to the interview, click here.
12/5/15
"Only in Vegas" Best Bets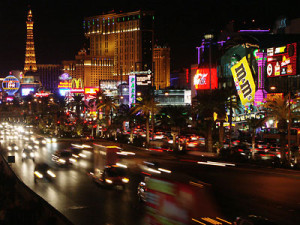 The Vegas Guru, David Yeskel, discusses some of his Vegas "Best Bets" for thrill seekers, foodies and families on the nationally syndicated radio program Rudy Maxa's World . Listen to Yeskel discuss an out of this world magic show, a unique package at a plush indoor shooting range and the place to go for modern Italian pastas. Tune in at the 40 minute mark for David's interview.
(The Washington Times)– November 23, 2015
"David Yeskel, aka The Cruise Guru at @cruiseguru_and Oceancruise.guru, offers these tips and considerations for those who may choose to cruise in the coming months. His underlining piece of advice: Not all cruises are created equal and not all cruises are alike. Know what you want first for the fit to be right.
What are the top things to consider when searching for a cruise?
More and more with all the cruise choices available, travelers need to find the cruise that is the right fit for them, and this is becoming increasingly difficult because of the number of options available. Travelers need to focus on what is important to them.
What kinds of activities do you want to have access to on the ship? Ropes courses? Flow rider surfing machines and water slides? Or something slightly more sedate without the amusement park on the top deck?"
To read the full article, please visit here.
---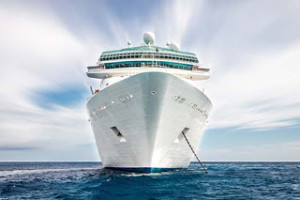 November 17, 2015
Five Cruise Myths Debunked – 25 years of experience covering the cruise industry for the travel trades enables David Yeskel to apply history and context to current cruise topics. He joins us this week on National Travel Radio to debunk 5 myths about taking a cruise.
8/10/15
5 Bargain – Under the Radar – Holiday Destinations You Can Afford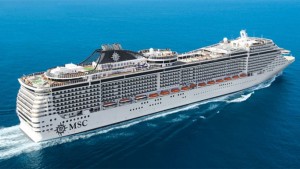 The Cruise Guru, David Yeskel, says there are a few "seagoing bargains" for the holiday season if you know where to find them. Read the article in TheStreet for Yeskel's surprise tips on the most affordable Caribbean cruise lines for a seagoing holiday adventure.
Read the full article on MSN Money!
---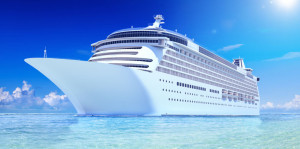 (The Points Guy) – July 21, 2015 – Cruising is a travel trend that doesn't appear to be slowing down — more travelers are hitting the waves than ever before. Fancy mega-ships, affordable rates, all-inclusive pricing and a set-it-and-forget-it travel itinerary make it all the more enticing to take on the open seas. But for first-timers, booking a cruise can get a bit choppy. TPG Contributor Julie Loffredi tells us what every cruiser should know … before pulling out that credit card.
"Some of the best cruise deals are made available to those in the cruise lines' loyalty programs, but few know that anyone can create an account on the lines' websites and register to receive many of those same offers. For example, Holland America Line [which also has its own Mariner Society program] often sends great-value promotions to its registered guests. Choosing cruises during certain slow travel periods can yield incredible savings typically unavailable during busier times," says cruise expert David Yeskel.
To read the full article, click here.
---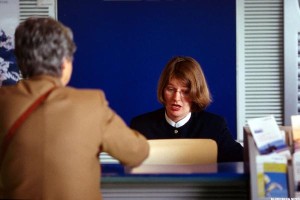 NEW YORK (MainStreet) – Maybe it is time to bring back floppy disks, typewriters, even adding machines. That's because – long ago filed in the dead-as-a-doornail category – travel agents are making a kind of return, at least for savvy, time-sensitive travelers, especially ones with complicated and/or expensive itineraries. It's a fact: there are instances where you should probably book with a travel agent rather than going the DIY route with Expedia, Hotels.com, or any of the other big online travel agencies (OTAs).
Your best pick? Call a travel agent first — and in fact 90% of cruise vacations are booked through travel agents according to Cruise Lines International Association (CLIA). David Yeskel, aka the Travel Guru, added this about cruises: "There are very distinct differences between the cruise lines and their respective onboard features, service, cuisine and atmosphere that a consumer wouldn't normally be aware of. Nor, for that matter, would an order-taker at an OTA's call center. But with a few key questions, a full-service travel agent that is also a cruise specialist can guide a client towards a cruise that would be the right fit."
To read the full article, click here.
---

VIRGINIA (AddisonYachtCharters) – European cruises are once again on American travelers' radar, after being disregarded in recent years due to the sky-high cost of trans-Atlantic airfare that often exceeded the price of the cruise itself.
Case in point: a current package promotion by MSC Cruises (a major European cruise operator with a small-but-growing U.S. presence) that offers roundtrip air to Barcelona, a 7-night Med cruise on MSC Divina and a 2-night Barcelona hotel stay, with all transfers, from $1,999. This is a deal that would have been unheard of, and financially impossible to pull off, in recent years.
Of all the vacation options available to travelers today, ocean cruises feature an unbeatable combination of amenities and value. Featuring luxurious accommodations, ultimate relaxation, gourmet cuisine and entertainment, modern cruise ships provide an enjoyable and effortless vacation at sea. And with rates starting as low as $50 per person, per day, cruises offer a value proposition that land-based resorts simply can't match.
---

(The Fashion Spot) – February 9, 2015 – It's a dirty world out there, but that doesn't mean germaphobes can't travel in peace (and maybe even enjoy themselves!) on vacation. Here's what to watch out for, what to pack and how to feel more comfortable on public transportation and in hotel rooms.
Long flights can take their toll in other ways, too. The dry air in the cabin can wreak havoc on both your skin and your physical health. Sharing this air with your fellow passengers is a recipe for potential illness, so it may be helpful to use a decongestant and drink plenty of water throughout the flight. "Travelers should apply saline gel to the inside of their nostrils," says travel journalist David Yeskel of From Sin City to Floating City. "The lubrication provides a defense against drying and cracking membranes that are a host for airborne viruses and bacteria." Beauty mavens who want to touch up before touching down should always wash their hands for at least 20 seconds prior to making contact with their own skin.
To read the full article, click here.
---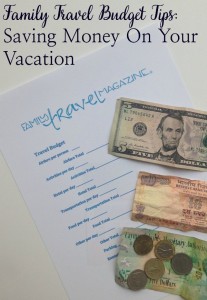 (Family Travel Magazine) – Consider a package deal, like those from Jetblue Getaways, which can help you save money on hotels and airfare. "While many travelers already realize the inherent value of a cruise vacation (all meals, entertainment, accommodations and transportation included in the base price), only some are savvy enough take advantage of special rates afforded to kids. Cruise rates are typically shown as per person/double occupancy, but many lines often offer significantly reduced – or free – fares for the 3rd and 4th passengers in the same cabin. And while those 3rd/4th berths are typically small (sofabeds or Pullman-style bunks), they fit kids perfectly. The best 3rd/4thrates come and go and may only be offered on some sailings, so it's wise to have a travel agent help search those out. Meanwhile, MSC Cruises, an Italian company with a limited presence in the Caribbean, offers a kids sail free promotion that is often matched by its primary competitor, Costa Cruises". – David Yeskel, From Sin City to Floating City
---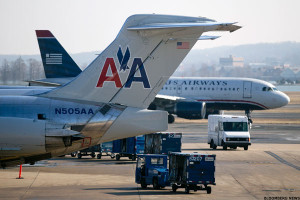 According to Mainstreet.com, call it the face-off of the flash deal airfare sites: the 800-pound gorilla is AirfareWatchdog.com, the upstart is TheFlightDeal.com and then there are new kids such as FareDealAlert.com. All exist to scratch this itch: you live in, say, Phoenix, you have a vacation week to burn and not a lot of cash. And you want to get out of town.
As for the flash deal airfare sites, understand, these are act now or forever hold your peace propositions. TheFightDeal expressly says that if a deal is dated more than two days ago probably it is tough luck, Charlie.
Which is better, TheFlightDeal or AirfareWatchDog?
Santa Monica, Calif. travel writer David Yeskel confirmed they both do a good job of finding flight deals. That's key in this niche. A site has to patrol constantly for good deals which – pretty much by definition – will have short shelf lives.
Yeskel did offer a complaint. TheFlightDeal has cluttered its page with tabs to nowhere, such as a "Bad Deals" tab. Click on it, and the most recent update is March 2013. On AirFareWatchDog, Yeskel pointed to the "Airline Info" tab. Click it and, guess what, there's no information on, say, Lan Chile or Garuda — that is, carriers with little visibility in the U.S. Instead, you will find links to info on the ten big U.S. carriers and couldn't you have easily found that on your own? "Thin content devalues both these websites," said Yeskel.

Click here to read the full article.
_________________________________________________________________________________________________________________________________________________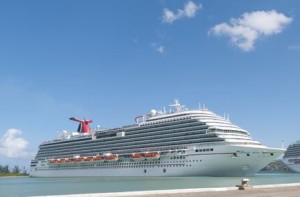 (Travel Market Report) – October 20, 2014 – The Ebola scare extended to the cruise industry last week when it was learned that a passenger aboard the 4,000-passenger Carnival Magic had been exposed to the virus. As events unfolded the scare proved to be just that—a scare—while travel agents commended Carnival's handling of the incident.
They also said concerns over Ebola have been overblown.
The passenger, a lab supervisor who had worked with specimens from the Liberian patient who succumbed to the virus in a Dallas hospital, was on the Magic's seven-day Caribbean cruise that sailed Oct. 12 from Galveston. After the government of Belize, a port call on the cruise, refused to allow the passenger to disembark and fly back to Texas, Carnival Cruise Lines said Mexican authorities delayed permission to dock in Cozumel for so long that the ship left to sail back to its home port in Galveston. Finally, the passenger—who with her spouse had been in isolation aboard the Magic—passed a blood test and was allowed to disembark ahead of the other passengers in Galveston yesterday.
David Yeskel, a former agent with The TravelStore in Los Angeles and a cruise expert who advises from 360cruise.guru, said concerns over Ebola have been overblown. Yeskel commended Carnival's handling of the recent Carnival Magic incident. "The upshot is that there was really very little risk to anyone onboard," Yeskel said.
"The fact that they missed a port call is disappointing but based on what we're currently told by the CDC, if a passenger is not symptomatic then contagion isn't an issue. "Typically cruise passengers are not coming in from West Africa, nor have they been there in their recent travels – and the same holds for the crew," he added. "With the proper precautions taken via cruise line policies already in place and accurate self-reporting by passengers and crew, the risk is practically nil for an Ebola outbreak on a cruise vacation."
Click here to read the full article.